Promote the conference!
Help the conference by advertising for it!
On this page, you'll find program, images, calls and other materials, ready to print, for posting in your office, university, or anywhere else.
Thank you for helping us making the conference a success!
Twitter hashtags: #AdaEurope and/or #AdaEurope2016
Advance Program
You may download the Advance Program brochure in PDF here (v1.1, April 28):
Normal version (1.6 Mb) | Reduced Quality (910 Kb)
A quick glance to the conference is also available in the Advance Information PDF.
Images
Conference banner image (PNG, 3 Mb).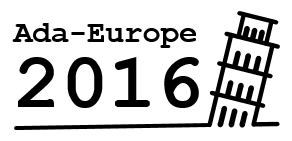 Conference Logo (png small, 8 Kb, png large 44 Kb, png high-res transparent 380 kb, PDF vectorial 16 kb).
Calls
AE2016 Call for Contributions (PDF, 1Mb).
Ada-Europe Flyer